Shabbat Schedule
Tzav- Friday, March 27, 2015 - 7 Nissan, 5775
Shabbat HaGadol
Shabbat Candle Lighting: 6:57 PM
Shabbat ends: 7:58 PM
Friday Night
Notice early start time.
Minchah: 6:00 PM followed by Kabbalat Shabbat.
Shabbat Day
Talmud Class 9:15AM
Shacharit: 10:00 AM
Torah Reading: Tzav (Leviticus 6:1 - 8:36)
Haftorah: Jeremiah 7:21 - 28, 9:22 &23
11:30: " The Sassoon Children"
Children's Program 11:00 AM-12:15PM
Children experience Shabbat and the Parsha in our warm, friendly environment every Shabbat morning. Directed by Faya Lipskier. Featuring: Tfila, Parsha, Games, Snack and Weekly raffles with exciting prizes! Contact Faya Lipskier for more info.
Kiddush Buffet 12:15 PM
***This week's Kiddush has no sponsor***
If you wish to sponsor a Kiddush please contact ushere or 212-706-7708. Co-sponsorships available.
B"H
Join Chabad of the West Sixties for the Journey out of Egypt...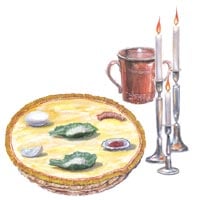 1st Seder
Friday Night, April 3rd
7:45 PM and
2nd Seder
Shabbat, April 4th
8:15 PM
At Drisha
37 West 65th St Between
Broadway & CPW
Whether you're a Seder veteran with answers to all the four questions or a curious explorer with forty questions of your own, Chabad's Seder offers a stimulating and satisfying experience for all. Everyone is welcome and will be made to feel at home: families, singles, couples, young and young at heart.
Cost per Seder:
$70 Adult $35 a child (3-10)
$70 to sponsor a seat for a Jew at the Seder
*No one will be turned away for lack of funds
R.S.V.P NOW!!
Click here to reserve online.
You can also email or call us at 212-706-7708
Sell your chometz here
Donate to needy families for Pesach (Ma'ot Chittim) here
Order your Matzah here
Even if you plan on being away for Pesach please consider sponsoring a seat for a Jew at the Seder by clicking here.
Wishing you and yours a Kosher and healthy Passover.